About The Heritage Village
For decades, Fort McMurray was a transportation hub. In the spring, rail cars would arrive to unload their wares, which were then transferred to ships that traveled up the Athabasca River, distributing goods to remote communities as far north as the Arctic. Heritage Shipyard celebrates and preserves this essential part of our past with historical vessels, two train cars, a collection of artifacts and the Jack "Torchy" Peden Centre and Gift Shop.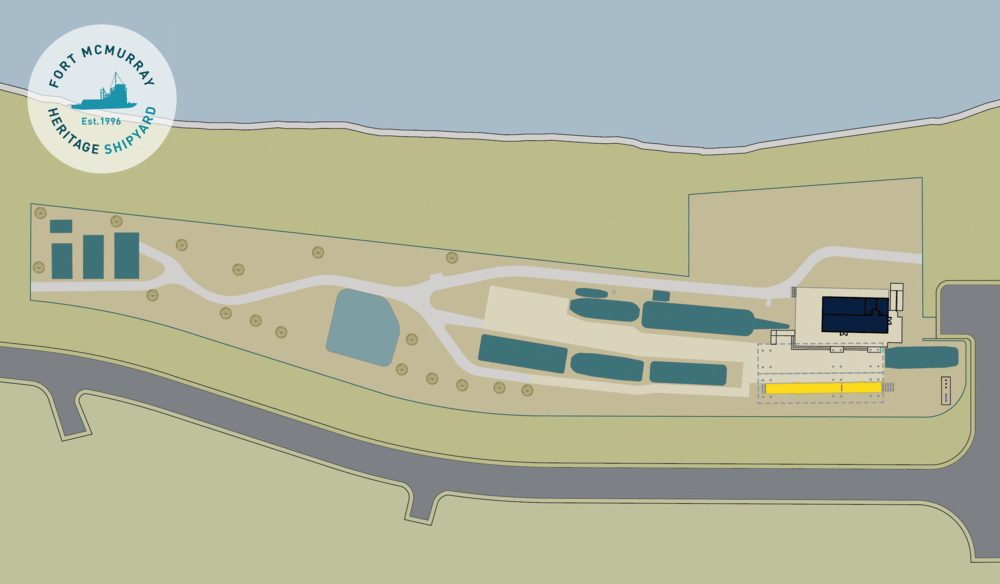 CCGS Miskanaw
Canadian Coast Guard Ship (CCGS) Miskanaw was built by the Allied Shipbuilders of North Vancouver in 1958, then was sent in pieces by rail to Waterways to be re-assembled. It is 20.5 metres (67 feet) long and has a 6.7 metre (22-foot) beam, or width. It weighs 105 tonnes.
Dredge 250
The Dredge 250 is a ship built specifically for its work here in Northern Alberta. It was in continual operation through spring and summer months, keeping the rivers navigable. It was decommissioned along with the CCGS Miskanaw in 1996. It is 32 metres (105 feet) long, has a beam or width of 8 metres (26 feet) and weighs about 254 tonnes.
Fuel Barge
The barge operated as a storage vessel for the Dredge 250. It was used to hold the fuel that the crews required to run both the Dredge 250 and the McMurray tugboat. The barge is 22.5 metres (74 feet) long and has a beam or width of almost 7 metres (22 feet). It weighs 51 tonnes.
Kris
The Kris is a nimble, steel-hulled riverboat powered by a Detroit Diesel engine. It acted as a runabout to ferry crew and supplies to the Dredge 250 when it was working near port. It is about 8 metres (25 feet) long and has a 2.5 metre (8-foot) beam or width.
McMurray Tugboat
The McMurray tugboat was built in 1955 in eastern shipyards. This tugboat originally pushed the Dredge 252, when its paddlewheels were removed. It was later assigned to the Dredge 250. The McMurray tugboat is 20 metres (67 feet) long and has a beam or width of almost 7 metres (22 feet). It weighs 70 tonnes.
Miskanaw Barge
The Miskanaw Barge was built in 1962 by the Allied Shipbuilders of North Vancouver to accompany the Canadian Coast Guard Ship (CCGS) Miskanaw. CCGS Miskanaw pushed the barge from 1962 until 1996 when the ship was decommissioned. The barge is in full working order. It is 24.4 metres (80 feet) long and has a 7.3 metre (24-foot) beam or width.
NAR Camboose 13002
NAR Caboose 13002 was built by the Canadian Car & Foundry in Montreal in 1926 for the Edmonton Dunvegan & British Columbia Railway, which later became the Northern Alberta Railways (NAR). Early cabooses were simple affairs with few comforts. They began when conductors started using boxcars as offices and storerooms. Cabooses were later outfitted with more comfortable bunks and other amenities, including circular side curtains, an ice-block fridge, oil-burning furnace and stove, lights and a hot plate. Climb aboard and explore how train travel used to be.
NAR Camboose 303
Comboose 303 was purchased from the Boston and Albany Railroad in 1927. Northern Alberta Railways, and later the Canadian National Railway used the comboose to transport both passengers and crew. The comboose or combo-car was attached to the end of a freight train along with a baggage car. Climb aboard and experience train travel a century ago.
NTCL Blacksmith Shop
The Northern Transportation Company Limited Blacksmith Shop was built in the early 1940s. Here, blacksmiths, known as 'smithies' were employed to create and maintain tools. By repairing and making the tools that built Fort McMurray, blacksmiths played an essential role in the history of our community.
NTCL Carpentry Shop
The NTCL Carpentry Shop was built by the Hudson's Bay Company at the Prairie Shipyards and originally served as the company's machine shop. Its waterfront location allowed it to play an important role in the river transportation system to the Arctic.
NTCL Machine Shop
Built in the 1940s, the Northern Transportation Company Limited Machine Shop was an important part of the facilities for maintaining riverboats and freight-handling equipment. The machinery in the shop has been restored to running condition.
Playground
Take a break from learning about our history and blow off some steam playing on the pirate ship playground.
Radium Scount
Radium Scout is the oldest ship here at Heritage Shipyard. It was built in 1946 by Standard Iron and Engineering Works of Edmonton, then disassembled and shipped up to Waterways by rail. Radium Scout weighs about 76 tonnes and is about 14.5 metres (48 feet) long with a beam or width of about 4 metres (12.5 feet).